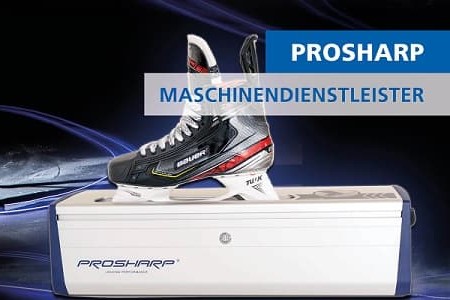 Press Release
Füssen, May 2022
Bauer Hockey acquires PROSHARP with Schanner as distributor in Germany, Austria, Italy and Slovenia. Montana Sport as exclusive machine service provider.
In August 2021, Bauer Hockey, the world's leading manufacturer of ice hockey equipment, announced the acquisition of PROSHARP AB, a Sweden-based company specializing in fully automatic grinding machines for skate blades. With this acquisition, Bauer Hockey further expands its expertise and market position in the field of field hockey skates.
The distribution of PROSHARP in the countries of Germany, Austria, Italy and Slovenia will be taken over by Schanner Eishockeyartikel GmbH + Co. KG in Füssen, Bauer Hockey's long-standing distribution partner, as of 01.06.2022.
"With Schanner, we have a long-standing and trustworthy distribution partner in field hockey who knows the brand and the market very well. Together we will be able to offer an even greater level of skate performance, service offerings, on-ice and in-store experiences with the PROSHARP brand." said Robert Osterhammer, VP International of Bauer Hockey.
In terms of service, Schanner is partnering with MONTANA, who will exclusively service PROSHARP machines. MONTANA has been a global player in the market of ski / skate service machines and their technical support, service, maintenance & repair for more than 50 years.
"Since the development of the first ski service machine in 1972, MONTANA has been a technology leader in the world of ski and skate service machines and system components necessary for the successful operation of a ski and skate rental business. The goal of our concept is to work with our customers to implement the most economical solution for the optimal care of winter athletes," says Ralf Seifert, CEO of MONTANA Sport Deutschland GmbH. "Through the long-standing cooperation between PROSHARP and MONTANA, Schanner has found a competent service partner in MONTANA and can offer customers a perfect product and service package."

The company is a leading provider of ski and skate rental machines and system components."

With kind regards
Robert Osterhammer
VP International
Bauer Hockey
www.Bauer.com
Ralf Seifert
Managing Director
MONTANA Sport Germany
www.Montana-International.com
Marc Meier
Managing Director / CEO
Schanner Eishockeyartikel GmbH + Co. KG
www.Schanner.de